"Behold, I am making all things new." Revelation 21:5
 The Author of Life is at work. He is making all things new. Color and new life burst forth all around us, pointing us to the Resurrection Life of Jesus.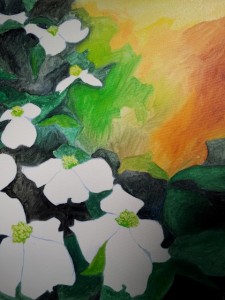 New painting underway, from Wednesday night worship last night 4.9.14.  "Dogwood Blossoms" 18×24″ oil on canvas, still in progress.
To the King of the ages, immortal, invisible, the only God, be honor and glory forever and ever. Amen. 1 Timothy 1:17